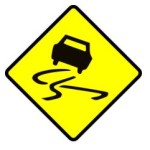 "All four lanes were running into the back of cars," said driver Mary Holmes, who was driving from South Carolina to Raleigh. "It was like something you see out of a movie."
Robert Turner, a tow truck driver who responded to the wrecks, said he had never seen a pileup so large.
"We get 3- 6- 8-car pile-ups all the time, but we have never had one of this magnitude," he said. "Every time I went out to get another car…I would be like, 'I am going to get called again because there is a lot of cars.'"
A Highway Patrol spokesman said wet roads, fog and speed were all factors in the collisions on eastbound I-40.
In total, 134 vehicles were damaged and 25 people were taken to Alamance Regional Medical Center.
"I am thankful no one was seriously injured," Holmes said. "Everyone got out of their cars, and this was the first time people were helping each other."
Troopers from Alamance, Guilford and Orange counties, along with the Alamance County Sheriff's Department, Graham Police Department and Mebane Police Department all responded to the area following the crashes.
Westbound travel lanes of I-40 were reopened at about 10:30 p.m."
Thank God us old coots can still read a sign and that Jean is as agile a driver as she is, to make a quick turn safely. Times like these I realize how sweet and sharp she is.
Note
I've been writing this newsletter for around twenty years now, a new issue every week.  All of those years I have endeavored to keep my facts straight and my stories honest. I still write a lot of fiction, novels and such and yet when it comes to this Memo, until now, I have stuck to the truth. Well I broke that code with the above story. That part with the quotes around it was taken right from the WRAL internet news and it is correct. The part about Jean doing a great job in pulling off I-40 skillfully and safely and finding a great route home was true too. I just got messed up with the logistics in my story. I had bent the facts just a bit and I liked the story so much I just couldn't let it go. And so I thought I might make this confession and keep it. The fact is there are a couple other exits between 15-501 and our Hillsborough exit. Traffic wasn't yet backed up on I-40 and we might have been able to make it on through to our exit without a problem. I don't know this for sure. Still, a few of you readers who live around Hillsborough might discover the error of my ways. The stuff about my loving Jean and considering her precious or something like that was all true. I hope you will understand and forgive my stretching a fact or two to save this story. The facts are this, when the driving gets tough the North Carolina drivers all run into one another. Tradition!