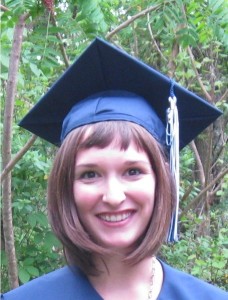 As I sat watching over two hundred candidates walk forward to receive their diplomas at the recent UNC-Asheville commencement I just couldn't help but wonder about that word "commencement" and what it might mean in their lives. Ladies and gentlemen start your engines. Commence firing! Begin production.
Take one step forward. Take a seat and we will call you.
OK, you've got that diploma thatthe world said you must have to succeed. Now what? I tried to imagine myself in Anna's shoes. Anna is our granddaughter and Jean and I are proud grandparents.
I can remember some years ago when corporate head hunters lined up at the universities actually bidding on some of the talentbut the times they are a changing and have been for some time. As the honorable speaker said, "This is a global world today and there is global competition everywhere." I know one thing for certain -I wouldn't trade places with Anna for anything. She has several immediate plans and I am certain that she will find her specific niche where her wonderful talents will be used but for me the thought of setting out on such a challenging adventure sort of knocks the wind out of me.
As I looked into the future I saw in this class the potential to make this a better world.