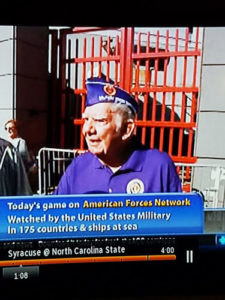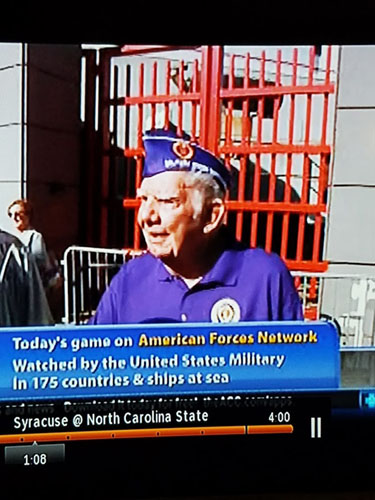 Saturday I had a marvelous adventure. I love adventures. I went to the North Carolina State football game. NC played Syracuse and won. That's four games in a row. Amazing!  Even more amazing was that I was one of 17 Purple Heart recipients who were honored guests getting the VIP treatment that day. First, we got free VIP Parking, free game tickets. We were greeted by ladies riding horses and followed them in a sort of parade. First there were the cheering people along the way, then the N C State University Drum Line, a playin' heart stirring percussion numbers and then ROTC and the Cheerleaders and Flag Girls all greeting us and oh it was so exciting, being thanked for the sacrifices we made. Then the walk was lined with the whole football team, including the assistant coaches and the top man with a police Guard, the Head Coach of the team, Dave Doeren,  who one at a time looked us in the eye and shook our hand. That they did. And every last soul thanked us personally for serving our country.
Then we went over and had us a wonderful feast with Bar BQ and SOS, and all sorts of good stuff sponsored by Coca Cola.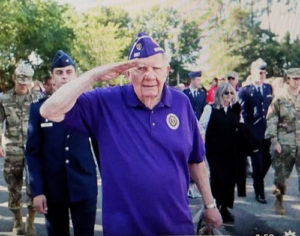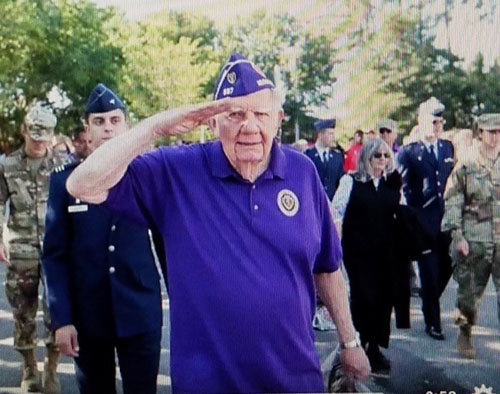 Soon, on to the stadium where we had VIP padded seats with arm rests in the shade. Then at the end of the first quarter, most of the other guys were lined up on the field and over the PA they announced each of their names and that whole crowd cheered, thanking them for serving this Nation. .
Later, at the end of the third quarter I was on the field representing all the veterans of the Korean Conflict. "Why me? I was just a draftee, I wasn't no special hero." They explained it to me: I was the only Purple Heart Korean Vet there who could walk onto the field. Figures.
And before me they had this hero of three wars, WW II , Korea and Viet Nam. I was so thrilled just to shake his hand.  And they had fellows representing all of the recent conflicts. And when they announced each our names and our wars the whole crowd of thousands of people cheered us individually thanking us for our service and I teared up thinking of all of our Buddies that didn't make it home. And I said a prayer for world peace.
Whew!  Then later golf carts took us to our car and we drove out of there before that mob and drove home without a bit of the traffic.
And believe it or not that was the first time in my life, except for family, that I had been welcomed home from Korea. The first time.  It took just 64 years. Korea was the forgotten war and I was a member of the Silent Generation.
But oh what a wonderful day it was for us. God bless our veterans and thank you NC State for this awesome adventure on MILITARY APPRECIATION DAY.  Please God, bring us world peace.