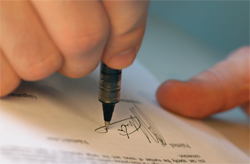 I had another of those phone calls yesterday. It began like most of them do, "Art, I heard you speak ten (or fifteen or twenty) years ago and you talked about positive interaction.  You persuaded our entire work force to sign a commitment to safety and we have signed that commitment again and again each year pledging to look out for our own safety and the safety of our fellow worker."  Most callers brag about their safety record over the years. A few have perfect records but most have safety records much better than the average in their industry.  Yesterday the caller explained that their company had been bought and sold and changed leadership a number of times but they continued to use our program.
I started that idea of being a Brother's Keeper back in 1978, as I recall.  It has gone through a lot of modifications such as becoming a Brother's and Sister's Keeper program. Some clients insisted my taking the idea of calling upon Divine Providence the same way our founding fathers did in the Declaration of Independence. God is no longer welcome in many major corporate settings.  We added the powerful 101 hand signal and I guess maybe over the years we have touched tens of thousands of lives but yesterday I looked over our 101 kit before sending it out and the thought came to  me that while I might have reached a few hundred thousand people in my lifetime with my safety program, if I had been more focused and a much better marketer then I would have reached millions and would continue to reach millions more because my approach is both powerful and timeless.
There is a scene in the movie about Schindler, the industrialist in who saved the lives of so many Jews, where he is being praised by those who's lives he has saved and he is about to get into his fine automobile and he cries out, "The Car. The Car. I could have sold the car and saved even more lives."  Well, this morning when I went to the post office to send out that 101 Kit to my old friend I had sort of that same feeling.  I welcome suggestions on how I might still reach millions more. We have captured the magic that has worked for so many major corporations into our 101 kit. It has presentations captured live on DVD. It contains original songs, booklets, instructions for implementation everything you need to involve your entire organization. The only element missing is YOU! Call me today. At just $595 plus $11 shipping it will be the best investment you ever made.