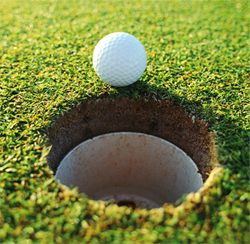 Recently when Korean golfer Y. E. Yang absolutely whomped the one and only Tiger Woods at the PGA Championship at Hazeltine  he said, "I tried to visualize … how to win if I ever played against Tiger."
Yang is a 37-year-old South Korean native with three kids.  He has been a professional golfer since 1996, winning seven times on the European, Asian, Japanese, Korean and now PGA Tour. His non-major breakthrough came at the 2006 HSBC, when Yang beat out a field that included Tiger, who tied for second, two strokes behind Yang.  Earlier this season, Yang became a PGA Tour champion, with his win at the Honda Classic. Four rounds of par or better was good for a one-stroke victory over John Rollins.
Ah So…So we have a fellow who has actually beaten Tiger Woods twice and obviously, Tiger didn't learn a think the first time because he is reported to have been playing this tournament as if there was no competition out there for him.
I've been a fan of Tiger Woods for a long long time, still I love to cheer for the underdog too and when an underdog comes up and wins and talks about visualization then he is MY MAN! I have been using visualization for most of my professional career. So often, before a big speech I would lie in bed the night before running through the entire next day's session, including positive audience response and then when I actually got up to do my thing I had the feeling that I had already done it successfully right at the start. "See it in your mind's eye." That was my motto.  So often I performed way beyond my ability. Try it. You'll see.
References: