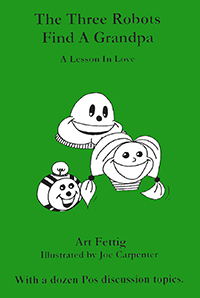 If anyone ever asked me, "Art, when did you first think about writing children's books?" I could honestly reply, "April 24th, 1979 at the Aim For Your Future Rally at Wing Stadium in Kalamazoo, Michigan.  I had the honor of appearing on a program with the following speakers.  Dr. Wayne Dyer, Dr. Robert Schuller, Earl Nightingale, Denis Waitley, Joe Girard and Marilyn VanDerbur.  You can check any of them out on the internet and you will get a real eyeful.  They are world famous authors and such.  The occasion was the Aim For Your Future Rally held at Wing Stadium in Kalamazoo, Michigan.
We had a full house of 3,500 attendees and during a conversation with these folks on the program I asked the simple question, "Just what do you believe this audience expects from me?"  I got a series of responses but one of them, I can no longer remember who replied, "Art, you have forty five minutes and these people want you to come onstage and say something so powerful, so profound that it will change their lives." I laughed first and then I replied that it sounded so simple, couldn't they give me something more difficult. I then continued on to say that the secrets of success were so simple that you could teach them to a little child. We were evidently in the rehabilitation business because nobody taught many of us about success when we were children.
That simple statement seemed to hit everyone present like a club to their head and all of us realized that most of the people in that audience had either gone through painful divorces, losing their jobs, bankruptcy; many were on 12 step recovery programs and such.  "In other words, Art, "one of them added, "They are people just like you and me."
Well, after that rally, like most of the other speakers, I went home and set out to bring positive living, success concepts to children.
I had a vacation in Europe scheduled with my two teens, Nancy and Daniel and we went to Spain where I wrote my first children's book The Three Robots. I followed that up with a parenting book and a parade of Three Robot books, and Nick Carter of Earl Nightingale's company made cassette tapes of all of those books.  Most of the other speakers wrote books, produced CD albums and Marilyn made three movies for teens all in an effort to reach younger folks with the very concepts we were sharing at that Rally.
Then I started making live presentations in schools for K-12 students, teachers and parents and some folks started calling me "The Wizard of Pos."  We hope we changed a lot of lives. I'm still I trying. It is strange how life sometimes leads us down different paths and each one presents a new adventure.