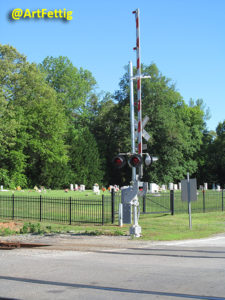 I was driving out of Hillsborough on Old US10 and turned left onto Mount.Herman Church Road when I came to a railroad crossing and as I drove over it I noticed an old cemetery on my left. Immediately the thought jumped into my head, "How appropriate, a railroad crossing and a cemetery." So many times I'd traveled to railroad crossings and walked down the tracks to examine the shattered remains of autos and the dead bodies of crash victims.
I worked for the Grand Trunk Western Railroad in Michigan for 35 years and in my work the first twenty-five years I investigated railroad crossing accidents between trains and motor vehicles. Most of them were fatalities and then when I got a promotion one of my jobs was producing audio-visual presentations. With the help of Roger Thurgaland who worked with me we produced a presentation titled "They Can't Stop!". The theme was, "The only one who can prevent a railroad crossing accident is you the motorist." Our trains traveled at speeds up to 69 MPH and with a hundred cars or so, it took half a mile to stop a train. Our filmstrip was used in Michigan's Operation Life Saver and over a million driver education students saw it. Then it was used nationally.
Today I still keep reading about people being killed at railroad crossings and even with flashers and gates at so many crossings, people are still getting killed. Unfortunately in most cases folks still haven't gotten the message. They Can't Stop! The only one who can prevent a railroad crossing collision is you the motorist.