Art Fettig's Monday Morning Memo
August 31, 2009
800-441-7676 or 919-732-6994
In This Issue
o See It In Your Mind's Eye
o Say Something Good
o Visit Our Website
o Points To Ponder
o A Little Humor
o Quote of the Week
o To Subscribe
See It In Your Mind's Eye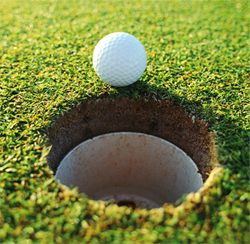 Recently when Korean golfer Y. E. Yang absolutely whomped the one and only Tiger Woods at the PGA Championship at Hazeltine he said, "I tried to visualize … how to win if I ever played against Tiger."
Yang is a 37-year-old South Korean native with three kids. He has been a professional golfer since 1996, winning seven times on the European, Asian, Japanese, Korean and now PGA Tour. His non-major breakthrough came at the 2006 HSBC, when Yang beat out a field that included Tiger, who tied for second, two strokes behind Yang. Earlier this season, Yang became a PGA Tour champion, with his win at the Honda Classic. Four rounds of par or better was good for a one-stroke victory over John Rollins.
Ah So…So we have a fellow who has actually beaten Tiger Woods twice and obviously, Tiger didn't learn a think the first time because he is reported to have been playing this tournament as if there was no competition out there for him.
I've been a fan of Tiger Woods for a long long time, still I love to cheer for the underdog too and when an underdog comes up and wins and talks about visualization then he is MY MAN! I have been using visualization for most of my professional career. So often, before a big speech I would lie in bed the night before running through the entire next day's session, including positive audience response and then when I actually got up to do my thing I had the feeling that I had already done it successfully right at the start. "See it in your mind's eye." That was my motto. So often I performed way beyond my ability. Try it. You'll see.
Say Something Good
I've been reading those airline reduced fares and they are very tempting. There are so many wonderful places here in the U.S. to visit. Over the years I have given talks in all of our fifty states and although the audiences have been different in many ways they were all Americans. I've given talks for Pest Control professionals and school principals. Police Chiefs and yes I have given talks in prisons too. I've invaded the petrol industry, the power industry, the schools, the soap and cereal and soft drink industries, the automotive and pharmaceutical and chemical industries and so many different government branches that it might make your head spin. Yes, the U.S. Army, Air Force, Navy, Marines and the politicians too. Been there, done that and did it again too and what I have discovered is that All America is so beautiful and I have met so many wonderful, intelligent, efficient and loving, dedicated people. It sure makes one wonder why we can't do a better job in picking our representatives in Washington. May God bless America and keep her troops from harm.
Visit Our Website
Learn about our sensational new 101 Kit that allows you to save thousands on speaker and travel fees and implement our fantastic employee positive interaction 101 program yourself. It is an instant behavior modification commitment program that gets everyone in your organization involved in safety. Remember, you have a ten day money back guarantee too. Act now! and we will include my comprehensive 420 page book Winning the Safety Commitment as a bonus. Go directly to www.artfettig.com and get your safety program cranked up to a whole new level of performance. If you have questions just call me at 800 441 7676 or e-mail me at artfettig@aol.com.
Points To Ponder
You must go after your wish. As soon as you start to pursue a dream, your life wakes up and everything has meaning. Barbara Sher
A Little Humor
The Secretary of State, Hillary Clinton was waiting outside the Oval Office to see the President when the Secretary of Defense arrived. "I have bad news, madam secretary," he said. "Last week three Brazilian troops were killed in the fighting in Afghanistan." She showed her sorrow and quietly she thought for a moments and then she asked, "Mr. Secretary, how many is a Brazilian?"
Quote of the Week
The greatest discovery of this generation is that a human being can alter their life by altering their attitudes. William Jame