There is a saying in the news business that good news is not news. It won't sell. That just might explain the barrage of bad news stories that have dominated our newscasts these days. Some days it seems the whole world is out of tune. And then I put on a CD of George Gershwin music and his Rhapsody in Blue chases my blues away and then after days of rain and heavy clouds the sunshine comes pouring into my office and once more for a while all seems right with the world. My wife, Jean and I feel so blessed. We are so fortunate to live here in America. Our home is so comfortable. We feel so blessed to have one another. A nap is such an added blessing. When my work on a book progresses the way I hoped it would,  I consider it a gift. There is the possibility to discover joy in everything we do but we must seek it out and sometimes that is such a challenge. Counting my blessings is a habit I am working on daily. Tomorrow will be another wonderful day.
"Happiness cannot be traveled to, owned, earned, worn or consumed. Happiness is the spiritual experience of living every minute with love, grace, and gratitude." – Dennis Waitley.
"Happy New Year"   Just think, a million New Yorker's gathered together at Times Square this year just to wish one another a "Happy New Year" and that message went out on TV to many, many millions more.  I opened this column  with a quote by Denis Waitley that I recently discovered and as I reread it again and again I came to the conclusion that Denis had hit the nail right on the head this time.  Many of the happiest moments of my life were those times where I caught myself acting as a loving person.  When I found I was truly giving for the sheer joy of giving and with no ulterior motive present.       Too often, our Give to Get philosophy is based on giving with the hope of getting something better back and as that wonderful speaker, philosopher Charlie "Tremendous" Jones once taught me, "Giving to get is not giving at all.  That is trading. But when we learn to give for the sheer joy of giving then we are often blessed as a result."   I figure this, that whatever part of this coming year I am still around or any future years here on earth for me are purely a gift.   At 85 I have absolutely exceeded my life expectancy and so from here on my life is truly a gift.  A very precious gift at that and I must be grateful for every second, every moment and every hour.  I want to fill those hours or days with as much happiness as I possibly can and that means happiness for not just me but all those I encounter in my remaining lifetime.  Reading that quote of Denis'  helps me to realize that I cannot travel to that happiness nor own it, earn it, wear it or consume it.  As the quote says, "Happiness is the spiritual experience of living every minute with love, grace and  gratitude."   That will take some real doing for me.  "…every minute with love, grace and gratitude."  Whew!
Definitely I will have to change some of my attitudes and absolutely watch my big mouth. There is an old, old song I remember that goes this way:
 I want to be happy. But I won't be happy. Till I make you happy too.
Life's really worth living, When we are mirth giving. Why can't I give some to you?
When skies are gray and you say you are blue, I'll send the sun smiling through. I want to be happy, but I won't be happy Till I make you happy too.
I hope we all have a happy, "HAPPY NEW YEAR!"
He was a caring, authentic looking Santa Claus to many thousands, he was a playful Leprechaun to thousands more and he was a dear friend to most he met.  Pete was a songwriter, a  folk singer, an activist, a performer, a free soul, a fun guy who had a million friends. Pete died the day before Christmas and the world is an emptier place. You might not agree with a lot of things Pete said but you'd sure fight with him for his right to think and say them. He will be missed a lot.
I had been listening to the New York Philharmonic Orchestra New Year's Eve and their final number was Auld Lang Syne and as I sang along it popped into my head that this was a special anniversary that evening. Sixty years ago I was in the Polish American Club in Hamtramck, Michigan playing drums with our quartet we called The Silvertones. I took the cigarette from my mouth, threw it on the floor and stomped it out with my foot, began my drum roll, crashed a cymbal and we started playing Auld Lang Syne. At that time I had a three pack a day cigarette habit and I have not smoked a cigarette or anything else for (drum roll) sixty years now. I just went cold turkey. Yes, it was hell. And today as I watch so many of our friends and relatives trying to quit smoking and failing I feel their pain. How did I do it? One day at a time of course, or one hour or sometimes for five minutes at a time. I did one more thing that I have never heard anyone talk about. I figured that the nicotine in my system was creating the craving I had for more nicotine and so I set out to get all of the nicotine out of my system. Remember that song in South Pacific…"I'm gonna wash that man right out of my hair.?" Well I figured correctly that my entire being was inundated with nicotine. I had it caked on my fingers where I held a cigarette. My teeth were stained from it. I reeked with the smell of cigarettes and when I would arrive home I would go to kiss my sweet but pregnant wife Ruthie and she would get sick from the smell. And that was my motivation to quit. I took a shower and used a brush to clean my skin all over and I scrubbed my hair with shampoo. I poured glass after glass of water through my system, that is ten and more big glasses a day. I brushed my teeth and rinsed my mouth with mouth wash a number of times each day. I wouldn't even get near anyone that was smoking and when I got a kiss from my wife when I returned home from work a couple of weeks later I knew I was on the right track.
Happy New Year, Everybody. And I hope you get a dozen things on your Bucket List.
This is it.  The last issue of our Memo for 2014. If anyone ever told me back in 1948 when I got into Safety work that I would be writing a newsletter for all you wonderful folks some 67 years later I would have said you were out of your cotton pickin' mind.Why would anyone have to work at anything that long?  I guess the answer is that when you truly love what you are doing then at some point it ceases being work and becomes fun.  There is joy in being of service to others if you are one of the fortunate ones who found that special niche, that magic spot where people would pay you for doing what you would gladly do for free then you might understand this unique behavior. I have refused pay for most of what I do these days but I am well rewarded for my efforts. When you write me and say that something I wrote made your job easier or somehow lightened the heavy load you were carrying then that is my pay.  When someone in the audience smiles or laughs or gives me a hug, that is my reward.  I want to thank you all for still sticking around and giving me the opportunity to send out this memo.  I wish you all the very best year of your lives so far, coming up.  God bless.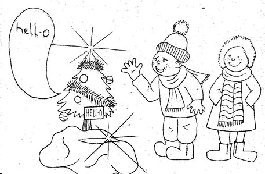 I know Joyce  Kilmer's wonderful poem ends with, "Poems are made by fools like me, but only God can make a tree," but this morning I was remembering how one day I made what might have been the world's first talking Christmas tree. In 1973 our Santa Train was a huge success for Grand Trunk Western Railroad and so I was fishing for an idea that would add some special fun for children visiting the train. I looked around my cluttered office for inspiration and saw a speaker I wasn't using. I put on my jacket and headed for the Salvation Army Retail Store where I picked up a small used artificial Christmas tree with a stand.
Then I stopped at the drug store and bought a roll of cotton. I rushed back to my office and put the speaker on the floor, covered it with a bed of cotton and then found a lavaliere mike I wasn't using and clipped it to the tree. I hooked it all up with an amp.  When we set it up on the first coach of the Santa Train tree we ran lines to a small room at the back of the gutted coach not far from the tree.  We had a two way speaker system and Mrs. Burdakin and the other ladies would take turns being the voice of the tree. Thousands visited our Santa Train each year and kids loved that talking tree. I was amply rewarded with all those smiles and the laughter.
I believe it was back around 1972 that I first came up with the idea for a Santa Train for the Grand Trunk Western Railroad.  I was their employee communications officer and we were looking for ways to bring top management and the workers closer together and eliminate the awful feeling they all had about each other.
After talking with Paul Dessinger at the DT&I about a few of the folks trimming up a caboose and taking some orphans on a train ride my mind took a hitchhike on something much more elaborate, a Santa Train on Grand Trunk and I submitted the idea to John H. Burdakin who was then Vice President of Operations. My idea was to put a special train together and take it from city to city on the Grand Trunk. Have several coaches the employees and their whole families could walk through meeting the top executives of our railroad together with their families. Our goal was for every employee to have the opportunity to shake hands with the top boss and for the top boss to meet every employee and their families.  Of course everyone would meet Santa Claus too and get presents.
A while later I got a call from John Burdakin inviting me to attend a meeting at headquarters. They were calling in everyone that might make the Santa Train idea come true. I believe that was 1972 and recently I googled Santa Train and discovered that the Santa Train is still running. Grand Trunk has become CN/IC, that is Canadian National/Illinois Central and the Santa Train is making stops at both railroads with several on the old Detroit Toledo and Ironton too. There is nothing as powerful as an idea who's time has come.
References:
I have been so blessed in my speaking and writing career that when I sit down and examine it I feel like one of the luckiest guys in the world. Freedom is a precious word and the more I look at these past forty plus years I am amazed at the freedom that I demanded for myself and the abundant freedom I was granted. When you are in business sometimes you might get the idea that everyone is your boss but with my career if I didn't like how a client behaved I would simply move on to a new client. There seemed to be an inexhaustible source of them just waiting for a call.
I have four thick books of testimonial letters from clients and as I read many of them I realize that there was something other than me going on out there in those performances. I say this with humility. I was just not as good as some said. There were times when people in an audience heard a different message than the one I delivered. There were moments where there was a sort of healing going on with members of the audience that was way far above my possibilities. I eventually learned that if I could get my big fat ego out of the way and let good things happen they really did. Often the audience reactions were far above the quality of what was being delivered. I wasn't that smart, or funny, or inspiring, or skilled or handsome or whatever. God knew that, and I think He intervened many times just out of pity or mercy or perhaps He just figured the people and the occasion demanded something special. Or maybe it was just because I had asked for help.
Perhaps we should ask for God's help more often. And in my case after I ask for help I should learn how to listen; really listen because as I look back on things there probably were a great number of answers I did not hear because I was talking too much.
References: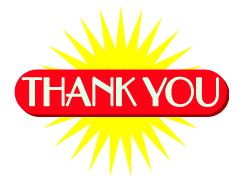 I had an exciting teaching experience this week and I do believe that I learned a whole lot more than anyone attending that session. When we are sharing we seem to bring more home with us that we left with. That is just the way it is though these days. I was reminded how blessed we are and how I should give some special thanks this Thanksgiving. When I get out into the world and mingle among younger folks I can see that things are not easy for them these days. People are often working two jobs or unbelievable overtime and they don't have much time for hobbies or new relationships and everything has to be done in a hurry on the way to doing something else. I am so blessed to have my health and many of my marbles and so I give thanks to God and to all of you good people that I have encountered along the way. I wish you prosperity, happiness and sufficient funds to buy a friend a Dairy Queen Dilly Bar or such. – Art Fettig
Here is a story that our speaking group circulated the other day. Evidently Dr. Black shot a photo of a sign that read "No photography"  A stupid act?  Maybe, but it is something I might have done because, being overly creative like Dr. Black, it would seem like a funny thing to do. That little kid in my mind might say, "Shoot a picture of a sign saying don't shoot a picture." That's funny!  What could be less harmless. And now Dr. Black has been in jail for several weeks trying to find a way out of this dilemma and possibly facing five years in prison.
EXCLUSIVE: American grandfather, 70, facing five years in jail in Arab Emirates for taking picture of 'no photography' sign pleads, 'Just get me out of here, I want to go home'
Architect Dr Robert Alan Black was lecturing at a conference in Abu Dhabi when he innocently took a picture of sign banning photography 
70-year-old from Athens, GA, was held by police in United Arab Emirates' capital for seven days before a translator alerted his family  
He has finally been able to speak to his son, Scott, and ask for help to be released to see his family
This is one of those happenings where you sit there thinking, "There but for the grace of God go I."  I'm sure glad I am here safe at home enjoying life and no longer chasing around this world making presentations. Ah, but would I accept such an assignment today if the enticements were right and it sounded right?  Probably I well might and so my concern is great for a fellow speaker who I had contact with just a few months before because of our shared interest in creativity. This is a dangerous world we live in and in many, many ways. Efforts are being made through The State Department and other channels to free Dr. Black, apparently with no positive results so far. This just came in, CPSI has set up a legal defense fund to help in this effort. GoFundMe.com for information.
References: