A friend of mine once told me that I was the luckiest person he knew because I managed to turn all of my hobbies and talents into a successful full time job. When I think about it I know my friend was right. I've said it before, since I went full time with professional speaking and writing I haven't worked a day, it was all pleasure. Since I loved what I was doing I didn't call it work but I sure did put in some long hours following that road. I have always chuckled inside when people come up to me and ask about how they might become a professional speaker. They wold see the fun I was having delivering a speech and somebody might tell them about the fees I was demanding and then visions of sugar plums would dance in their minds. "That is what I want to do." They often say. Just work an hour a day and let the money roll in. Of course The speaking and the applause is just a tiny part of what I have done successfully for over 40 years now. What I don't harp on is that it took me over twenty years of trial and failure before I finally got the ear of somebody that was in a position to help me get rolling with my talents. At one point in my speaking career I wrote a book titled Selling Lucky. Then I gave hundreds of presentations as Mr. Lucky, a guy in a green and white tuxedo. My business cards were Lucky Bucks. I wrote Lucky Selling Ideas for sales magazines. I had special music that went with my introduction. Mr. Lucky was my brand. My only problem was that I didn't believe in just luck. I finally found a quote that was right for my way a thinking. it went, "Luck is when preparation meets opportunity." This quote is attributed to Roman philosopher Seneca. So I guess you might say that I spent over twenty years preparing and seeking out the opportunity and then those other opportunities I needed to suddenly become "Lucky."
Let me ask you, What are you doing in your life right now in the way of preparation?
I figure writing this newsletter is a lot like exercising my mind.  Some days it just doesn't feel like exercising and others it can't wait to get at it.  All I need is a seed of an idea and I can make it grow into a column. Oh yeah, some days I have had a crop failure.
It is hard for me to remember back to when I wasn't writing. And harder yet is the thought of going through a whole week without turning out something on my computer. I'm forever working on books and booklets, knocking out something new or at least a different approach to something old.  When I get rolling on a new idea I can feel the blood rushing to my brain and I can often go for weeks with daily inspirations.  My 86th birthday is coming up on July 5th and I can still remember going to a printer and having business cards made that read, "Art Fettig, Freelance Writer". What a brave and wonderful declaration. That was back in 1961.
I believe that business cards are a good idea…making a printed declaration to the whole world that you are serious about your hobby and ready to buckle down to the hard work of making your dream come true.
Right this moment I have to finish this thing because it is time for me to drive over to the Sportsplex and exercise some of my other muscles.  I do believe though that I exercised the most important ones writing this article. Why don't you give this mental exercising a trial? Stretch your imagination. Exercise your body, exercise your mind and one day a week exercise your prerogative to not exercise at all.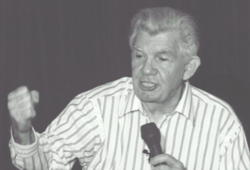 I've looked at thousands of people in audiences all over the world and said, "There is greatness in you." I just figured that many of those people had never heard that message before and they needed to hear it. I believed that what I was saying was true and I hoped that I could get them to believe it. From some of the feedback I have received over the years I do conclude that many of them started believing that and with that belief then went out and found some measure of success in their lives. Compare that with what many kids have heard again and again. "You rotten kid. You're just like your father. You are going to be nothing but trouble the rest of your life." "We become what we think about all day long." Ralph Waldo Emerson said it. Earl Nightingale repeated it. Budda said it too. I had a record by Earl Nightingale in the years when my life was most troubled and I listened to it again and again and again. "We become what we think about." Try thinking, "There is greatness in me." Drum it into your subconscious mind. Next start searching for some inkling of greatness in yourself. Oh, you won't see greatness when you first look for it. It might just be a rough talent that has made itself known. Look for something that you enjoy doing. I discovered writing and speaking and I worked for many years honing those rough talents and it was years before I found success using these talents.
Search for a Mentor that might see that spark of greatness in you. A mentor who had shown the world his or her greatness, even if it is in the early stages. Get online and check out Ted.com and seek a segment that ties in with your talent inkling. Never forget…There is greatness in you. Now get out and find it.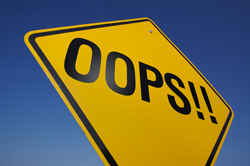 This morning I inadvertently sent off my newsletter without this lead article in it. Oh, I had written a lead article alright but I had the good sense to delete it. Don't you wish you could just go back in your memory and delete some of the things you have said or written in your past? Things you said in anger, in spite, with the aid of stupidity on your side? I wonder how my life might have been changed if I had just carried a delete button around with me in some of my business and my personal dealings. Did you ever have a phone conversation with somebody only to learn later that you had the wrong person on the line? Delete.
Maybe you are a bit like me? Maybe you wish you had a great editor walking through life with you to cheer you on or to flat out tell you to "Shut up!" when it is called for. But no, we don't have editors, most of us, and we stumble along through life just doing the best we can. Someone at IBM once captured some of the best advice ever offered and they did it with just one word. Here it is, are you ready? THINK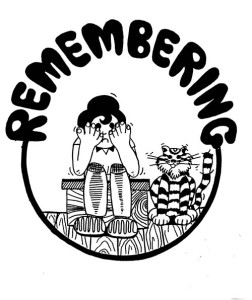 Jean and I visited Battle Creek, Michigan recently and as we do each visit, we drove past my old home. We were amazed. It looked brand new even though it was probably built perhaps 85 years ago. Evidently a total restoration had been done on it. All new windows, the brick has been cleaned, and we lucked out and got a total tour of the inside. WOW! What a shock. From basement to attic it is all different. The attic, where I did so much writing in late hours in heat or cold is a mess of tubing for the new central air conditioning throughout the house. The front end of the master bedroom has a big new bathroom with a tub that will accommodate two at a time. Hmmm.  With that old enormous coal burning furnace out of the way, the basement looks like a roller skating rink. Oh, the memories that house holds. Ruthie and I moved there in 1961, she died in 1993 and I moved out in 2001 to North Carolina with new wife Jean. The back yard has a lovely deck now and a garden that is bursting to bloom, plus a tall fence with a swinging gate that looks as if it is out of Home Beautiful. That house brings back so many good memories and many painful ones too. It was a nice visit but home is now in North Carolina and I am so happy to be back here.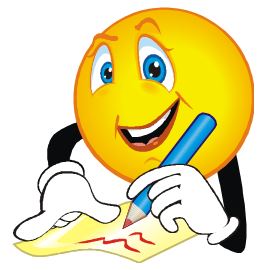 It is almost breakfast time and my wife Jean is in the kitchen preparing a wonderful meal for us as she does most mornings. What will it be, fresh eggs with ham or bacon or perhaps sausage for a change? Or will it be oatmeal with raisins or maybe blueberries? We have a choice of breakfast cereals and fresh fruit, or maybe she will fix up waffles or pancakes. We might even go out for hot biscuits with such a variety of fixin's that it might make your eyes bug out. Hot tea for me. We have so much to be thankful for. She is 80 now and I am 85 and our pensions are serving us well. Before we begin to eat we pray thanks to the Lord for our blessings.
Our home has a new heat pump providing comfortable temperatures all year long. The view of the trees all around us is ever changing and wonderful. Our neighbors are friendly. We go to church on Sunday and we love the people in our congregation.
My biggest joy is writing and I write a weekly newsletter, or some call it a blog. I write a book or two each year just for my own enjoyment. I sometimes recite poetry and each month I try to visit at least one nursing center or senior event to entertain as best I might. We still travel some. Not as much as before when our legs were stronger and we flitted around like fireflies. And yes, we still love each other very much, thank you.
I don't believe you will see us on the evening news.
I'm just telling you all this because our hearts are full with a love for this nation. Life is good and we thank God for it. Have a good day.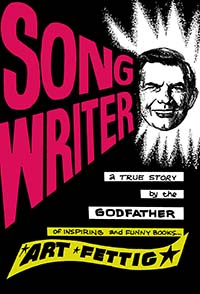 Years ago I wrote a song and one line went like this, "The things a fella thinks about when he doesn't know what's wrong, could fill a book and still have plenty left to write a song." For some reason that line went creeping through my mind this morning.  It is a pretty good description of fear or worry and for some reason I started thinking about America. Over the years we have had a lot of positive thinkers who have dreamed wonderful, seemingly impossible dreams about the future of this nation and then, working together, we Americans have made some awesome dreams come true. Well, I don't know what's wrong but we don't seem to be on the right track right now. We don't seem to all be pulling in the same direction for the good of this wonderful nation of ours. Maybe we are thinking too much about ourselves and not enough about one another. I can't put my finger on the problem but I sure think it's there.
That was the title of a documentary movie I saw at the army Camp Drake in Tokyo, back in 1951,  just hours before we were loaded back onto our troop ship destined for Inchon Korea and combat. The premise was that black was insanity and white was sanity and that nobody is white and the more stress we are put under and as we face different experiences our minds might travel from lighter to darker and some all the way to black. In other words, combat experiences might drive us nuts. I saw that happen in the first few days on the line. One fellow reacted to a stressful experience by taking a hand grenade and successfully blowing his hand off so he could be sent home.  Many of us reacted in different ways after we were rotated back home or such. I guess they have fancy names for it today such as Post Traumatic Stress Syndrome. Battle Fatigue. Or even Shell Shocked. I remember one day at the Railroad when one of our train dispatchers came out of his office into the huge lobby which was no longer in use, just outside my office, and he started pacing up and down and shouting out loud.  He was under such stress that he had made it all the way to the very dark section of that chart.  He soon left the railroad for a different occupation. I've had the joy of mentoring a mental patient with her speaking and I gave a little talk at a home shared by folks with mental problems and it is easy for me to see how at different times in my life my shades of grey have altered. I feel I have been blessed to have the right family, the right locations and so many wonderful people in my life that I have managed to somehow find some balance throughout my life.  It is easy to look at folks in a bit different situation and say truthfully, "There but for the grace of God go I."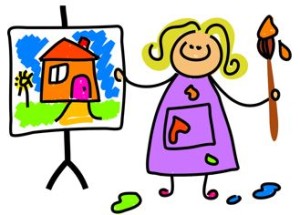 Back in 1976 I had the honor of  presenting at the Creative Problem Solving Institute at Buffalo University with my friend and sometimes partner Herb True PhD on the topic Humor and Creativity. There were dozens of concurrent sessions going on and at one on teamwork I found myself on a team with four other participants and we had to come up with a project of our own and see if we might complete it within the hour. I remember writing a poem in just a few moments. A woman who did some calligraphy took my poem and with her talent in full bloom created a beautiful rendering on some paper that was available and then we discovered we had an artist in our group who took our project to a table that provided some artists supplies and in no time she had made our rendering a lovely work of art. Meanwhile the one other gentleman in our team had taken some pieces of wood and cut out a frame and in no time we had a really worthwhile creation. The last member of our team looked at our work and without hesitation she tacked a wire on the back of the frame and we all joined her as we found a vacant spot on the wall and she hung up our work for inspection.
There were no prizes at that session but I know that I felt well rewarded for my efforts. There is real power in teamwork and everyone brings something to the table. Demonstrate the need and you will soon find rare talents in others that sometimes even they are not aware of.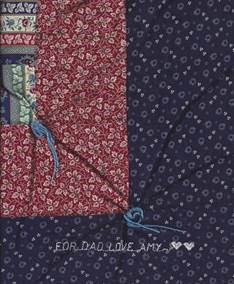 I was making our bed this morning and as I tossed the quilt that I believe I have had for over 20 years into place I noticed this dedication at the bottom. "For Dad…Love Amy..with a couple of hearts beside  this."  That quilt keeps my feet warm year round. I just have cold feet. They were frostbitten when I was in the Army overseas. Talk about a gift that keeps on giving. Wow!  It is a beautiful quilt and warm and I have never given it much thought. It was always just there for me. In all these years I cannot recall reading that note. "For Dad…Love Amy." Well, Amy, I finally got your message and I still love that quilt and I love you too, Amy.  Dad