I was watching the old movie Gypsy and there is a scene where Gypsy's mother is talking with her dad and he shows her the plaque the railroad had given him for his long career. He told her it was made of gold and very valuable. It started me thinking and so I went in search of what they gave me after 35 years with the Grand Trunk. It was a coin about the size of a dime and it showed a railroad engine and they had glued a little brass 35 on the engine. It was a really sloppy job. You just can't get much these days for thirty five years. Members of Congress do not pay into Social Security and after serving just one term when they retire they receive a pension equal to their congressional salary for the rest of their life? I think I got in the wrong line.
Some time ago a friend of mine, John Gross, a fantastic speaker and TV sports reporter interviewed the National Champion for 400 meters, a major upset winner and asked him how he did it.  The reply was "Self talk."  And then the athlete explained that his coach told him to run 405 meters, not just 400, so he didn't slow down at the finish line. Wow!  What a great concept. I guess we all have a tendency to slow down near the finish line in any project and the real key to victory is to play all out right through the finish line.
How often have you watched an auto race (especially in the movies) where the lead car is passed just as it approaches the finish line?
My advice to new speakers is to start their speech like they are already ten minutes into it and they will never have stage fright. Walk out there friendly and confident as if they have already accepted you and your message.  And now I suppose I will add to that advice, "And finish as if there was a lot more brilliant stuff you wish you could add but will hold back in the interest of their valuable time."
I was over at our Post Office the other day and walkin' up and down the steps is becoming quite a challenge for me. Oh, I can remember when I used to take two steps at a time, going up or going down. Now I go up a half a step at a time. You know, raising one leg and then liftin' up the other to that step and so on.  It is a real chore when you get a mess of steps to deal with.  I take just one step at a time instead of contemplating the whole mess at once. That seems to be the way life becomes over eighty. One step at a time and, you know, it works.  Given the time and the incentive there are a whole lot of things I can still accomplish.  The other day a fellow named Jerry Passmore came over to our home with a really sharp cameraman and we did an interview. The way he laid it on to start with as my introduction made me sure he was talkin' about somebody else. The show is on UNC's Public Access TV, The People's Channel, on Time-Warner Cable in three nearby towns…still it felt good way down deep inside to be interviewed that way. The program is called In Praise of Age.  Jerry's wife watched it and said it was "inspiring."  If the show inspires or motivates one older person to get up and take one step at a time and bring a little joy into someone else's life then that would really make the effort worthwhile.
Some thirty-five years ago when I had the title Employee Communications Officer for a railroad in Michigan I discovered that Safety Rules were B-O-R-I-N-G. I was asked to create audio visual presentations that would present each of the safety rules in an interesting manner. I figured that if I could inject a bit of humor often enough that it just might keep people awake and if I could do it in a manner that illustrated a specific rule all the better.  After many days and nights of struggling with this problem in my head, I came up with a character I called Joe No No.  I felt we might hire a local actor to play the role and we could shoot reams of photos of him breaking the rules and then suffering the painful consequences. When I checked my budget I decided I had no money to hire an actor for the role.  Instead I bought a wig and a false mustache, a red and white hat and my wife cut out round circles with diagonal lines such as the signs that say "Do Not Enter" and other Do Not warnings and she sewed them on one of my old sweat shirts and on the new hat. I went down to my office in my new outfit and thus Joe No No was born.
My fantastic associate, Roger Thurgaland and I wasted no time getting Joe out into the railroad yard going through his paces. We started out with the rule covering stepping over rails.  Joe No No first started out breaking the rule and then he came very close to breaking something else.
The only talking Joe No No did in our productions was to let out a loud line of undecipherable cuss words whenever things went wrong and they were usually followed by a lot of crying out and screaming in pain.  We would often put in sound effects of arriving ambulances and some scenes of Joe No No being carried over to the waiting ambulance.
We made up a series of  posters stating "Don't be a Joe No No!" and on special occasions Joe No No would appear at various locations with his arm in a sling or his body covered with bandages.
Sure it was low comedy, corn-ball stuff.  Sure we brought on a lot of groans and yet, for the first time ever people started paying attention to the safety rules.  We managed to get rid of some of those antiquated rules which made no sense at all and the company started enforcing the rules.  We got the backing of top management and managers were made responsible for their department's injury records. What was the result?
In the ten years that Joe No No was around, our railroad won three Harriman Awards for our safety results.  The number of employee on-duty injuries dropped dramatically and we even won an Abbey for one of our audio visual presentations. Of course there were a dozen other things that made this improvement possible but I like to think that Joe No No was the first one out there with a safety message.
How far do you have to go to get that safety message out there to the troops?  "Whatever it takes." was our motto, and if I had to do a few pratfalls and get a little mud on my boots and sometimes on my face too, well, so be it.
It is strange the way our memorie work. Just this past few weeks I have been thinking about the important role some people have played in my life. One of the first things I learned in the Army was "Never volunteer for anything."  As I was exploring that recent idea my mind flashed back to early September 1951. I was on a troop ship headed for Korea. Somehow I learned that "Special Services" was looking for entertainers to perform onboard in some sort of show. I don't know what obsessed me but I rushed to the reported location to volunteer as a drummer in the band. I was just about as qualified for that job as I was to take over as Captain of the ship but it turned out that I was the only volunteer to play drums and I got the job.
We had some great talent in our show. A hypnotist, a fire eater, a singer, and a wonderful black tap dancer. He was great. He had no special music so we worked with the piano man on some special stops in a song so he could really make something special out of his dance. I worked on drums with him and he was very patient with me and it turned into quite a number. I think we did five shows. I didn't see him again until mid November. He had been assigned as a medic to Taegu General Hospital and I went into combat as a rifleman and had been wounded and evacuated to that hospital. I had a superficial wound to my butt and I felt sick and I could hardly walk and I was lying on my cot when he walked up to me and grabbed my hand and  said, "What's happening man?" What a joy to see him again. He looked at my chart and said that I was scheduled to be released and sent to the front again the next morning. I explained my problem and he said, "I will have a doctor examine you."  We went into the doctors office and he had me bend over and when he examined me he said, "Oh, my God, we missed that." He had me lie face down on a litter and they carried me onto a waiting evacuation plane, I was flown to Kobe Japan and I had surgery. I was sick and they tell me I nearly died from some complications. When I recuperated I was sent to Hokkaido, Japan where our outfit had been reassigned.  I figure that guy saved my life.  So you might say I volunteered for something, had a great time on that ship with that show and later that tap dancer saved my life.  Now that is a pretty good reason for you and me to volunteer for something again, right?  Let's do it!
In the 70′s and 80′s and 90′s when I was out there speaking all the time people used to ask me, "Art, what is your goal when you come in to do a speech?" I would explain that it depended on what I was hired to accomplish. Most of the time I was hired as a "MOTIVATIONAL HUMORIST" and that meant that I was hired to entertain but I was also expected to improve the performance of those in the audience. If a sales audience, to sell more; for managers to manage better; safety, to work safer and inspire others to do the same. For teachers, to teach better and so on. In regard to my own performance I wanted to take complete charge of an audience in the first 30 seconds or so and hold them in the hollow of my hand for an hour or whatever time frame I was allowed. My goal was to take everyone in that audience on a sort of emotional roller coaster ride making them laugh and cry and learn something really important that would help them do their job better.
Mostly I told stories and those stories had to lead to the final call for action in my presentation. My corporate motto was "Touching people's lives," and if somehow the audience gave me cheers and two standing ovations but they did not learn and commit and have my material stick in their minds for future reference then I would consider the whole thing a failure.
One of my personal goals, which I continue to shoot for, is to try at least one new piece of material in every presentation. It could be as simple as changing a sentence in one of my seasoned vignettes and making it just a little bit better. That way I was always endeavoring to improve, even just one little step at a time.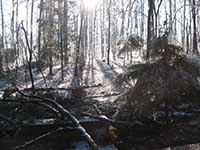 We've been without electric power for almost 48 hours. It just kicked on and it sure is welcome. It was cold in our home last night. We bundled up in blankets and I found my long johns, pulled my heavy nightshirt out of my dresser drawer; put on two pairs of socks and added a quilt on the pile for good measure. Kevin, our son, came to the rescue and started our gas fireplace log, brought us a propane stove and a couple of boxes of BoJangles Fried Chicken to boot. Our yard looks like a disaster area after a major battle, with tree limbs fallen everywhere, especially on our decks. In the midst of all the trials, we took time to be thankful that though we are surrounded by all those trees dropping ice laden limbs, we had only 2 dents in the house gutters and NO damage to either car!
What did we learn? That we have an electric stove, electric furnace, electric hot water heater, electric computer, electric TV. When I went upstairs to my music room to play my drums and relieve some frustration, guess what? The music on our CD runs on electricity. When I tried to read in my favorite chair…no light. It might sound crazy but I'm actually happy that this happens every few years. It reminds me how blessed we are to live here in a home with so many conveniences. We have an old telephone that does not require electricity and we received calls about emergency shelters available and so many friends called with offers of aid if we needed it. And now the TV is blasting out the news. I'm able to forward my newsletter and very soon all will be right with the world.
A lot of speakers have been trained to maintain eye contact with an audience by looking around an audience, that is left front, left rear, right rear then right front. Often they never really look anyone in the eye or make a personal contact. I have learned that if I really get intense with one person that through the process of empathy, everyone in the audience sits in the chair of that person I am focusing on.
The same force works when you single someone out for criticism or poke an ugly joke at someone. The whole audience sits in the seat of that person you embarrass.
Really talk to somebody in the audience, then really talk to somebody else. You can do a one on one with several thousand people through the power of empathy.
Almost eleven years ago we bought an Aeron Chair made by Herman Miller for my office. I first saw it at the Arizona Safety Congress and it had a high price but it felt really comfortable when I sat in it for a while. It has a lumbar support feature and I'd set my chair aside because it just wasn't comfortable to me any longer. I didn't even look at it, I just put it away and pulled out one of the other chairs I have. We went into a store for a back pillow the other day and they had a lot of expensive chairs including the Aeron and I thought about mine and mentioned it to the salesman. He advised me that my chair probably had a great guarantee with it perhaps for even twelve years. I didn't remember when we had bought it but when I found the bill it was over ten years old and I was disappointed. Then I read the information on the chair and it has a twelve year guarantee on all parts and labor. It is a simple guarantee in English and there is no fine print. It just says that if anything goes wrong with the chair they will fix it or replace it. I went up and examined the chair and, sure enough, that lumbar support had a cracked base. I made a few calls and soon I will have it back, repaired.
As I get older I seem to be encountering more and more fine print and the print gets smaller and smaller and the exceptions on a guarantee seem to get longer and longer. I feel really good now about that chair. I'll feel even better when it is back in place in my office. What kind of guarantee do you offer on the work you do each day?
The sun was shining off the pristine snow in our woods behind our cottage and bouncing up through my big office window. The rays caught the tip of the wing of my prized pounded brass eagle I'd found in a window at a little store in sort of a little mall in Kuala Lumpur, Malaysia where I was a speaker at their High Performance Leadership Conference, June 22 and 23, 1981. When I went inside and talked with the shop owner I soon discovered that I had met my match when it came to bargaining. He said the price was $100 U.S. and it was not negotiable. That is what they all say, but crafty Old Art, world traveler and master shopper, knew otherwise. At least he thought he did. I offered seventy and the man did not blink. He explained that in his store prices were fixed. He showed me the tag with the prices listed and the one with a dollar sign showed $100. I said to him that I collected eagles and I wasn't even certain this was an eagle at all. Then I offered seventy-five and then eighty and he suddenly became busy with something in the back of his store and he did not come back to me. I did what every good negotiator must do. I left the store. A few hours later I returned and before I could even get fully inside the store he came up and smiled at me and gave me one finger (a nice one) and then two zeroes with his thumb and forefinger. "One hundred U.S. Dollars," he said.
Early the next morning I returned to the shop. That same gentleman smiled and gave me the hundred dollar signal. I smiled and paid him. Fortunately this brass sculpture had been built for travel. The bird parted from it's globe like stand and both wings came off. I carried it on my flight to Singapore and then a few days later from plane to plane on the trip back home. When I moved here to North Carolina from Michigan all of my eagles survived the move and I set them all around my office and my music room and the ladies who come in every two weeks keep them dusted. It wasn't until we had this snow and the welcome sunshine that bounced their rays into my office shining as a spotlight on that eagle that I gave it much thought. I carefully brought it down from over the bookcase and cleaned it up some and my loving wife Jean took some photos for me as a Valentine gift and now I treasure it even more.