This is one of Art Fettig's many Safety Motivational speeches. Abitibi-Price, Stephenville Division, Newfoundland, hosted Art Fettig and his video producer, Terry Pochert. This paper mill always was proud to be the "Safest Mill In Canada". Once you meet Art and the employees he talked to, you can see why.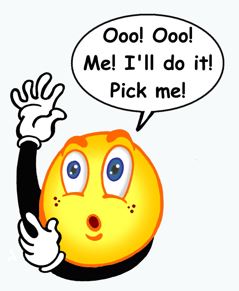 I was drafted into the Army on April 9th, 1951, for the KOREAN POLICE ACTION.
The first thing I learned was "Don't volunteer for anything." Pretty good advice. They would trick us. The Sgt. would say, "I need ten men with office experience." Then he'd send a corporal off with the ten somewhere to dig a latrine, Or he'd ask, "How many like to cook and another corporal would march ten off to work in the mess hall cleaning the grease trap.
Well in September we had our basic training completed and we were going overseas on this troop ship. First thing on the ship they put a call out for entertainers and musicians for Special Services and right away I went and volunteered. I claimed that I played drums and I auditioned with a piano man and they chose me out of a group of one, just me.
We had a hypnotist, a fire eater, several wonderful singers and a five piece band. Six if you counted the guy on violin who did a couple of solo's and then helped us out on ballads.
There was also this tap dancer who looked like a young Harry Belafonte I later decided and we just called him "Steps." He kept apologizing for not having his special arrangements and Steps called me aside and said he wanted to do his special dance number to Tea for Two and did I think I could back him up and work with the piano man so we could do a lot of special stops, and rim shots and tempo changes so he could do his thing.
I said I'd try. Fingers, the piano man and I, we worked with Steps a couple of hours with different tempos and some wonderful stops. I can still recall just a bit of it. It went like this.
Tum ta tum, ta tum, ta tum. Pow! Wow! Zapa do da. Steps was fantastic! The troops cheered him.
We did about eight shows and then we all shook hands and got off of the ship at Inchon and we were all sent to different locations. I never saw any of those guys in the show again except Steps. It was a couple of months later.
When I got off the ship they lined a lot of us privates up and some sergeant walked along the line and he wrote a "1" on most of our helmets.
That meant 1st Cav. And in a few days we found ourselves riding to the front on trucks and a small Korean train and then more trucks and then we marched a while.
That cut to the quick and one morning I found myself with the whole 7th Regiment and we were making an attack on this big hill. Our turn came and I was carrying machine gun ammo and running with a sergeant machine gunner and after he fired all of our ammunition he told me to go on up the hill and see if I could join the others.
I was running up the hill and….well I wrote a poem about it, it went, "While attacking a Communist hill I was hit. And where was I hit? I was hit where I sit.
Well luckily, I was bleeding bad and this medic, he stopped me and told me to go back to the aid station.
Well there I was plugged up and they kept sending me back farther all the way back to the Taigu General Hospital where they gave me some stitches and assigned me to a bed. I kept feeling worse and worse. I guess you could say I had a real pain in the butt. It got so I could hardly walk to the mess hall and after a few days I was lying on my bed and in walks "Steps," our tap dancer. He was a nurse there and we were really happy to see each other and he asked how I was doing and I told him how painful it was and all. He looked at my chart and said, "All they found was a small wound on the cheek at your butt. They plan to send you back into combat tomorrow."
I told Steps how I couldn't hardly walk and he said, "I'll have the Captain examine you. I'll be right back." Well, in no time I was in the exam room and the Captain said, "Bend over and spread 'em."
I did. He took just one quick look and he said "My God, we missed that." He did. And then he had me lie down on a liter on my belly and he told Steps to go get my stuff, they were flying me to Kobe Hospital in Japan immediately for surgery."
I figured Steps had saved my life. He got me out of Korea. And it was all because I volunteered that time to play drums on that troop ship.
This is the Purple Heart that they gave me at the Kobe General Hospital after the surgery. The captain asked if I wanted it pinned on the front of my gown, here or on my rear end.
Now every time I hear that song, Tea for Two I think back of Steps and how he saved my life and it was all because I volunteered.
Poets might make strange bedfellows, although, right offhand I cannot recall ever getting in bed with one. I must confess that I feel very awkward in the company of folks who call themselves "poets." In my youth I was once listed for some two years on the masthead of The Cub, school newspaper at the University of Detroit High school as "Staff Poet." A title I took most lightly and everyone else concerned took it lighter yet. Although the word "poet" was contained in that title I never did anything to qualify myself for such a designation, although I did develop a fondness for a poet named Joyce Kilmer who was a sergeant in the Fighting 69th Regiment in World War I and was killed in action. He had a sometimes gentle touch with words and was already a famous poet for his poem titled "Trees" before he enlisted in the Army. If anyone asked me what I was in the past forty years I would answer, "A professional speaker and an author." I might add "Humorist" or "Motivational Humorist" if pressed but I would never say, "Poet." If pressed today after several months of deep reflection while working on a "pictorial autobiography" I might list a dozen professions or specialties before I would, if ever, get around to the term, "Poet." If you, the reader, were somehow sentenced to the horrid penance of reading all of my works including a couple of hundred poems and then ordered to list in the order of tolerable endeavors, I am certain you would never mention "poetry."
And so, as I examined my sparse list of engagements pending I found the listing, "Poet's reading" I started the chore of weeding through my sad collection of weeds that I have written in the past seventy-two years I spotted just three or four that I am proud of and then recalled that I have already done those before with this group. I am on that program because I volunteered and I checked the section "Open Mike." Right under that listing was, "Able to handle heavy tables." and under that, "Clean up team."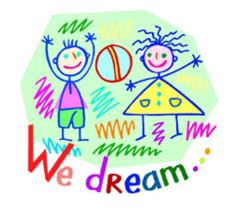 How many times in your lifetime have you asked yourself, "Am I doing the right thing?"  If you were asking about the career path you have followed then I hope your answer might be "Absolutely YES!"
Some folks are lucky enough to fall into the right job the first time out the chute. Many never find it I would guess. I was just over forty before I finally discovered what my talents were and how I might use them. On February 11th, 1973 I attended the Annual Meeting of the World Meeting Planners Association. Herb True invited me to attend as his writer. As I watched Herb perform that afternoon I vowed that I would become a professional speaker and speak at their meeting in Texas the following year at their Chitaqua Showcase for New Speakers. I could just visualize myself performing. I set that goal and worked daily in some way preparing, and yes, a year later I was there in Texas and they voted me the Top speaker. I booked more speeches that day than I ever dreamed possible. First came the dream.
For these past two weeks I have been walking down Memory Lane with my good friend Bill Tatroe, a man who has worked with me creating covers and illustrations for many of my published books. Bill has been under the weather recently and I have been phoning him each evening and asking questions about his past. I am quickly discovering how dull my work history has been working those 35 years for just the Grand Trunk Western Railroad. Bill was a real mover before it became fashionable. We've been sharing music I find on YouTube, I mean some really old stuff by Jan Garber and Eddie Howard and of course the Dorsey's and Benny Goodman, Gene Krupa and some bands I never heard of but they bring some joy to Bill and that is important right now.
"In a factory where mariner's compasses are made," wrote Dr. Orison Swett Marden, "the needles, before they are magnetized will lie in any position, wherever they are placed, but from the moment they have been touched by the mighty magnet and have been electrified, they are never again the same. They have taken on a mysterious power and are new creatures. Before they are magnetized, they do not answer the call of the North Star, the magnetic pole does not have any effect upon them, but the moment they have been magnetized they swing to the magnetic north, and are ever after loyal and true to their affinity."
I must have said it a thousand times in my career as a professional speaker. "Today in this session, my goal is to touch one life in this audience and you will never, never be the same."
One of my greatest thrills as a speaker was an afternoon at the exit of the theatre at F.E. Warren AFB at Casper, Wyoming standing there and shaking hands with a couple of hundred airmen as they left the theatre following my presentation and one after the other leaned forward and whispered into my ear, "I was the one."
Please do not misunderstand this, I say it with humility because I do not believe that I touched that audience myself. I was just medium between a Higher Power and the members of the audience.
I suppose that it happened perhaps a dozen times in my career where my words were much wiser and my performance was far beyond my limited talents. Yes I had worked for years honing my skills as a speaker. I had toned my message endeavoring with each of thousands of speeches to make each one a bit better but that is now the answer to what occurred. Yes, I believe all of that practice and striving was a part of what happened but I also believe that sometimes for certain occasions a Higher Power just takes over and does the job for a presenter.
A few times, members of the audience quoted back to me words I'd never said. It was as if each person in the audience was hearing only the words they needed to hear at that moment in their lives.
Sometimes I later learned from members of the audience that this was a life changing moment for them, almost like that instance above when the needles we spoke of above were touched by that mighty magnet and were never the same again.
And so I made that my personal goal each time I stood up to speak. Some way, somehow to get my own big fat ego out of the way and call out for help with great expectations. And I do believe that in this world there are many, many speakers and teachers and great leaders and bosses who set out each day to touch lives.
References:
That's life.
As Frank Sinatra sang it…
I've been up and down and over and out,
And I know one thing:
Each time I find myself flat on my face
I pick myself up and get back in the race.
Watching the ACC Tournaments I was fascinated by the play of Sophomore guard Cat Barber on the NC State team's game against Pittsburgh. He delivered A career-high 34 points on 9-of-13 from the field, including 4-5 from beyond the arc. Barber was also a perfect 12-12 from the line and dished out five assists as State won 81-70. The next evening the Duke team squashed him as if he were a little bug. Duke beat NC State 77-53.
If we are very lucky in our lifetime and we follow those rules for success sometimes we get to soar like an eagle and it is such a wonderful thing to experience. And sometimes for most of us there is a moment in our lives when we get squashed just like a little bug. That doesn't mean that overall life isn't wonderful but it does mean that we need to constantly work on developing the stuff like character and desire and humility and fortitude to pick ourselves up and get back in the race.
For the long run, my money is on the Cats in this world.
Yesterday I was listening to an audio tape of a talk I gave in Las Vegas in 1993. As an aside to the audience as I was about to recite my Self Esteem Credo I mentioned that I had recently talked to Herb True, a Notre Dame professor, and he said a janitor there had informed him that he found this verse of mine stuck on the bathroom mirrors in thirty some rooms of the students.  He asked Herb for a copy. He wanted to send it to a nephew in college. I had given copies to students in Herb's class when I spoke there a week before. Here is the Credo. You might want to share it with someone you love. I have removed the copyright notice so feel free to share it.
The Self Esteem Credo
by Art Fettig
God made me – I was no accident,
No happenstance. I was in God's plan
And He doesn't make junk, ever.
I was born to be a successful human being.
I am somebody special, unique,
Definitely one of a kind
And I love me.
That is essential so that
I might love you too.
I have potentials, yes,
There is greatness in me,
And if I harness that specialness
Then I will write my name
In the sands of time with my deeds.
Yes, I must worker harder, longer,
With greater drive
If I am to excel,
And I will pay that price.
For talents demand daily
Care and honing.
I was born in God's image and likeness
And I will strive to do God's will.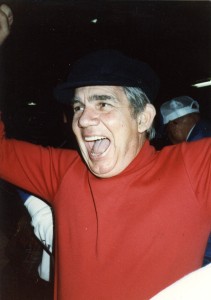 What would you like to hear just before you hit the back door and head home from a powerful two or three day conference on safety? I always figure that the closing speaker has the job of convincing attendees that they have just attended the best conference of their lives.
I can recall back when I was doing a lot of national conventions and when  I arrived at a fancy hotel where several thousand people were gathered, the conference chairperson would run up and grab me like I was a lifesaver and say simply, "Oh Art, everything up to now has gone wrong. The other speakers were awful. The sound systems have been failing. The food and service has been terrible. All of the attendees and exhibitors are ready to kill me. All I want you to do in this final session, Art, is to convince them that this has been the best convention they have ever attended and that I am their hero. And I'd appreciate it if you would also sell them on coming back next year." Most of the time I was successful.  Anyway I had fun, often meeting that challenge.
I guess really, all of us are called upon now and then to pull a calamity out of the burning embers and create a positive result.  So often we are required to take a botched up mess and turn it into the stepping stone for a bright new future. A positive attitude toward such a situation will go a long way; add a smile and a kind word and a challenge and just maybe you might save the day and at the same time save your job too. Good luck.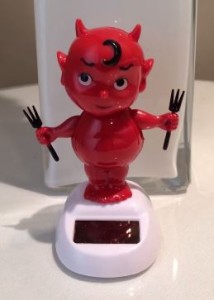 I bought a little solar red devil. It swings its arms with a fork in each hand and moves its head side to side as if that devil is saying "No." to me. Whenever the sun shines into my office it works. It was manufactured and then shipped here to North Carolina from China. That little red, Chinese devil has horns and it isn't such a stretch to believe that red devil is saying, " I'm going to eat your lunch!" I bought that little red devil for just $1 plus tax. I would guess the store that sold it to me made a tidy profit on it. The little devil has it's own Youtube site.
I bought that little red devil to remind me that if America is to survive and thrive in this competitive world then it will take commitment and the best efforts of all of us Americans, every day.